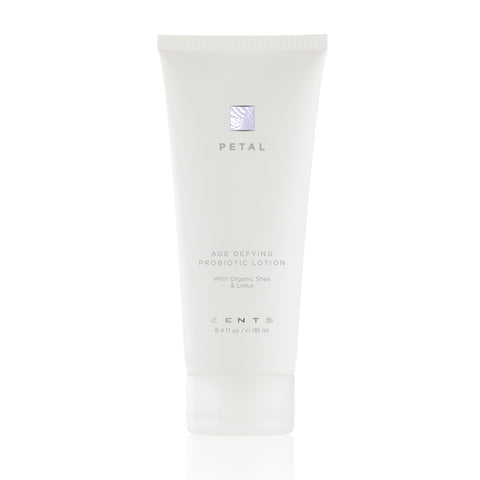 Zents Lotion ~ Petal
$ 43.00
Immerse your skin in this luxe age defying body and hand lotion, packed with probiotic peptides, organic shea and lotus to help skin look its youngest, smoothest, and softest.           8 fl oz / 180 ml

Petal; Soft and Romantic
A morning stroll through a spring garden, when buds begin to flirt with bloom and the day feels new. This is the spirit of The PETAL Collection, a delicate floral aroma infused with the freshness of spring. Lily of the valley, rose absolute and tonka bean give this blend its heart, while a dash of lemon gives it a glistening top note.

SIGNATURE SCENTS INGREDIENTS: Aloe Barbadensis (Aloe Vera) Leaf Juice*, Prunus Amygdalus Dulcis (Sweet Almond) Oil,* Water, Cetearyl Alcohol, Polysorbate 60, Caprylic/Capric Triglyderide, Glyceryl Stearate SE, Glycerin, Potato Starch Modified, Cocos Nucifera (Coconut Oil)*, Butyrospermum Parkii (Shea Butter)*, Glyceryl Stearate, Alisma Plantago-Aquatica Extract, Sodium Anisate, Potassium Sorbate, Sodium Hyaluronate, Helianthus Annus (Sunflower) Seed Oil, * Tocopheryl Acetate (Vitamin E), Citric Acid, Fragrance, Alcohol, Alcohol, Water, Nelumbo Nucifera Leaf Extract, Passiflora Incarnata Flower Extract, Ginkgo Biloba Leaf Extract, Cameillia Sinesis Leaf Extract, Cetraria Islandica Extract.  Lavandula Angustifolia (Lavender) Flower Extract**, Taraxacum Officinale (Dandelion) Flower Extract**, Prunella Vulgaris (Self-Heal) Flower Extract**, Calochortus Tolmiei (Star Tulip) Flower Extract**, Arctostaphylos Viscida (Manzanita) Flower Extract**, Achillea Millefolium (Yarrow) Flower Extract.**
*Certified Organic **Demeter Certified Biodynamic
Zents Lotion ~ Petal
$ 43.00